Helpful Information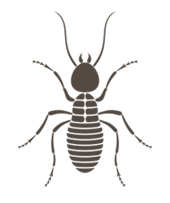 Are you worried you may have an infestation in your home? Is it hard to discern whether you have ants or termites invading the kitchen? BUG Termite & Pest Control Co. of southwest Florida presents helpful information about pests to help put your mind at ease.
Which Bugs Are Most Dangerous to My Home?
While ants can certainly ruin your picnic, termites are of a MUCH greater economic importance. In fact, they are known to cause more than $1 billion in damage to homes each year and strike more American homes than fire. If you think your home is in danger of becoming a large pile of sawdust, call the only bug that should be welcome in your home... BUG Termite & Pest Control Co.!
Ants vs. Termites?
While ants and termites might look similar to the untrained eye, they are actually very different. In fact, they have been mortal enemies for millions of years. If you find a bug in your home and are unsure of which species it may be, here are some basic things to look for:
Ants
Descendants from the Wasp Family

Different Sized Wings

Elbowed Antennae

Feed on Practically Every Kind of Food, Especially Sweets and Protein

Narrow Waist
Termites
Descendent from the Cockroach Family

Equal Sized Wings

Feed On Cellulose from Wood and its By-Products Such as Paper

Straight Antennae

Thick Waist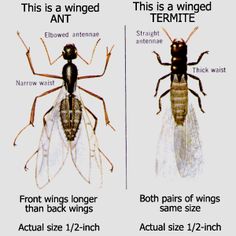 Speak to Our Experts
Contact us to speak to our experts about getting rid of your pests for good. We look forward to providing the solution you expect and deserve.